Chapter 7

- Special South Richmond Development District (SRD)

The City of New York

Eric Adams, Mayor

City Planning Commission

Daniel R. Garodnick, Chair
The "Special South Richmond Development District" established in this Resolution is designed to promote and protect public health, safety, general welfare and amenity. These general goals include, among others, the following purposes:
(a)        to guide future development in accordance with the Land Use Plan for South Richmond and the Capital Improvement Plan for the Special District area;
(b)        to promote balanced land use and development of future land uses and housing in the Special District area, including private and public improvements such as schools, transportation, water, sewers, drainage, utilities, open space and recreational facilities, on a schedule consistent with the City's Capital Improvement Plan and thereby provide public services and facilities in the most efficient and economic manner, and to ensure the availability of essential public services and facilities for new development within the area;
(c)        to avoid destruction of irreplaceable natural and recreational resources such as lakes, ponds, watercourses, beaches and natural vegetation and to maintain the natural ecological balance of the area with minimum disruption of natural topography, trees, lakes and other natural features; and
(d)        to promote the most desirable use of land in the South Richmond area and thus to conserve the value of land and buildings and thereby protect the City's tax revenues.
All land in the open space network as shown on the District Plan (Map 3 in Appendix A), except public parks, and all zoning lots along an arterial as shown on the District Plan (Map 2 in Appendix A), are subject to the provisions of this Section, inclusive.
Any development, enlargement resulting in changes to lot coverage, or site alteration shall comply with the provisions of this Section, inclusive.
All zoning lots shall comply with the provisions of Sections 107-31 (General Regulations for Natural Features), inclusive, and 107-32 (Tree Requirements).
In addition, regulations within areas of designated open space are set forth in Section 107-311 (Areas within designated open space).
Any plan review site shall also comply with the provisions of Section 107-312 (Regulations within plan review sites).
Any application to the Department of Buildings for a site alteration, development, or enlargement shall include a survey map in accordance with the requirements set forth in Section 107-03 (Requirements for Certification, Authorization or Special Permit Application).
A site plan for such application shall also include the location of any area of no disturbance, proposed paving, and shall identify those trees proposed to be removed and proposed to be preserved.
Administrative certifications from the City Planning Commission are required, as set forth in various sections of this Chapter, in any one of the following circumstances:
When any yard requirement of the applicable district regulations is modified by the City Planning Commission pursuant to Section 107-46 (Yard and Court Regulations), prior to the filing of an application for any permit with the Department of Buildings, there shall be recorded in the Office of the County Clerk, County of Richmond, and indexed against such zoning lots to be developed as a unit, an instrument describing all conditions and restrictions required by the Commission for the development and use of such zoning lots. Recordation of instruments may be required in connection with any other zoning application hereunder. A certified copy of such instrument shall be submitted to the City Planning Commission upon recordation thereof.
The Special South Richmond Development District Plan is incorporated as Appendix A of this Chapter.
 
Appendix A
Special South Richmond Development District Plan
Map 1 — District Plan (9/11/75)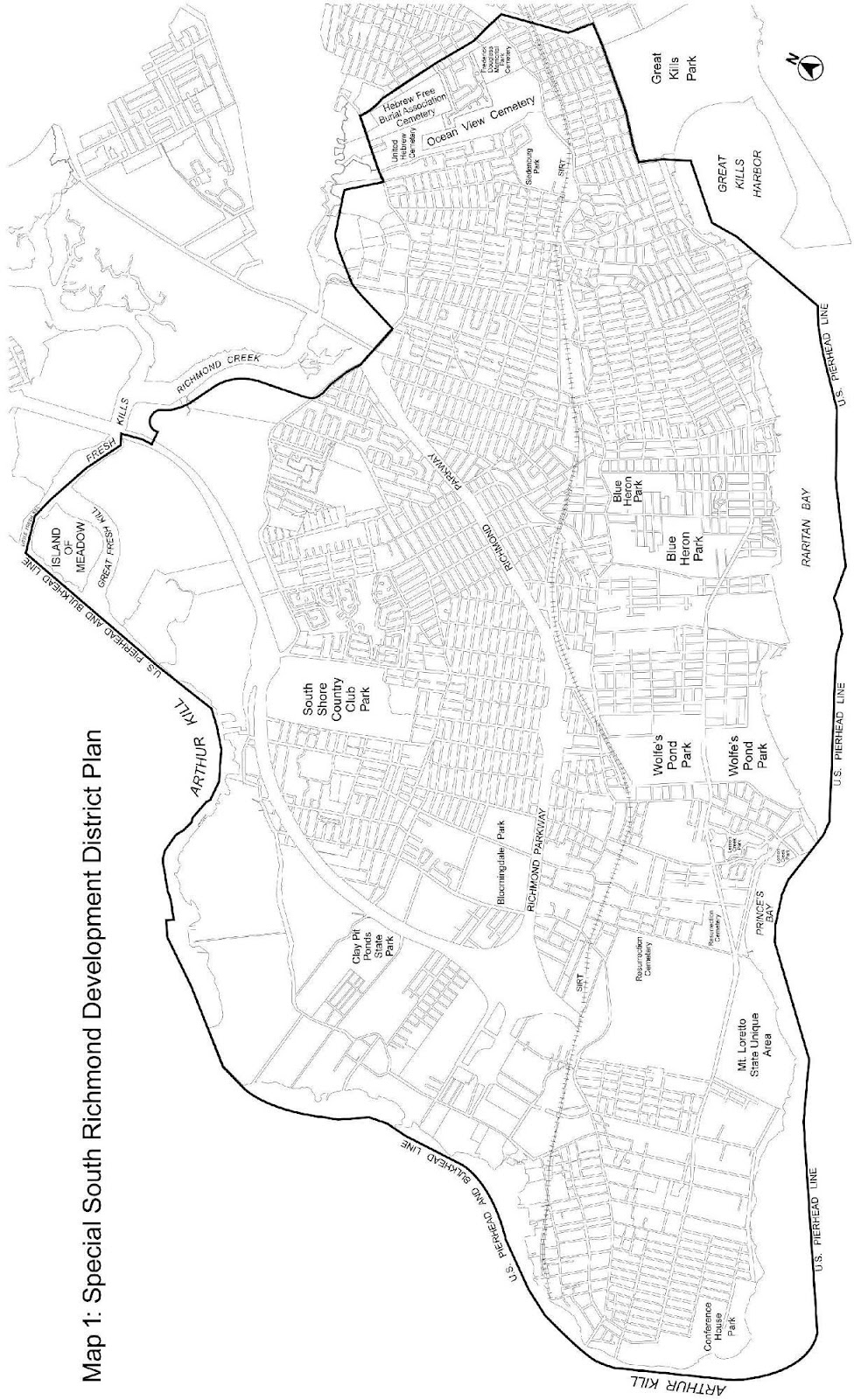 Map 2 — Arterial Setback Plan (11/2/23)
Map 2.1 — Arterial Setback Plan (11/2/23)
Map 2.2 — Arterial Setback Plan (11/2/23)
---
Map 2.3 — Arterial Setback Plan (11/2/23)
---
Map 2.4 — Arterial Setback Plan (11/2/23)
Map 3 — Open Space Network (11/2/23)
Map 3.1 — Open Space Network (11/2/23)
Map 3.2 — Open Space Network (11/2/23)
Map 3.3 — Open Space Network (11/2/23)
Map 3.4 — Open Space Network (11/2/23)
Map 3.5 — Open Space Network (11/2/23)
Map 3.6 — Open Space Network (11/2/23)
---
Map 4 — Special Areas LL, M and SH (11/2/23)